When a shopper walks into the store, even if they aren't looking for something in your product category, the proper packaging can entice them to make a purchase they hadn't planned. That's why packaging should be considered part of your marketing toolbox. Here are five ways to use product packaging to stand out and create competitive differentiation.
1. Great design matters.
The front of your container is your face to the market. Whether a label or a folding carton, bright colors, glossy coatings, and specialty techniques like embossing and foil can stop shoppers in their tracks, and creative design techniques, such as vintage effects, can grab attention, too. Get creative!
2. Emphasize sustainability.
With more and more consumers looking to buy sustainable products, the packaging is a great way to show that your brand is committed to the environment. Use recycled materials, biodegradable packaging, and reusable packaging, then promote your efforts on the package where shoppers can see it easily.
3. Target specific audiences.
Did you know that you can break your packaging into target segments just as you do with other marketing materials? You might create complementary packaging for different audiences—one for men and one for women. Or, if you sell into areas with a high percentage of Spanish-speaking consumers, you might print a portion of your packaging with messaging in Spanish and English.
4. Create personalized options.
With today's digital production, packaging can be printed in runs as short as one. Allow customers to purchase your hand-ground coffee in bags with their names on them (for example, "Joan's Favorite Breakfast Mix") or with the names of friends and family to use as gifts. Encourage businesses to brand their products for corporate events.
5. Add something extra.
Include something fun and surprising inside the package. This might be a coupon for their next purchase, a free sample of a related product, or a funny refrigerator magnet. Customers appreciate and remember this extra effort.
Packaging is one of your most essential marketing tools, so use it to your advantage. With a bit of creativity, you can surprise and delight your customers, build brand loyalty, and keep your customers coming back.
---
You come home from work and discover that you received a direct mail piece. Nice! We all love mail. But then you talk to your neighbor, and they got the same piece in their mailbox. Then you talk to another neighbor, and they got one, too. So did the neighbor across the street and the neighbor the next road over. So much for feeling special.

Personalization matters. It makes people feel valued, especially when it arrives in print. Digital personalization is all around us, from Amazon recommendations to shopping cart abandonment reminders, but personalization in print marketing is less common. It stands out.
While personalization in print stands out for relevance, it increasingly stands out for another reason: respect. What do we mean by that?

Personalizing your print communications shows respect for the recipient's time. Nobody has time for irrelevant mail anymore. Buyers know that personalization is possible—they even expect it. They look for it, and they recognize it when they see it. By personalizing the piece, the recipient knows that you've taken the time to create something just for them. They know that when they open it, they are less likely to find something irrelevant that is a waste of their time.

It's no wonder that, in a classic InfoTrends study on the value of print personalization, when consumers were asked how providers can improve the value of their direct mail communications, two of the top three responses were "make them relevant to me" (34%) and "personalize the content for me" (28%). Do you know the top reason for marketers to personalize their transactional mail, in particular? "Make it easier to understand," with 43% giving this answer. This, again, shows respect for the recipient's time.
It's no wonder that when asked how personalization affected the amount of time consumers spent with marketing mail, nearly half (49%) agreed that they spend "much more time" reading direct mail that is "personalized and relevant" to them than they do with generic direct mail.

The data continue to tell the story. You're missing a massive opportunity if you're not personalizing your print or digital communications. Need to get started? Let's do it!
---
Targeting is the foundation of any highly effective marketing campaign, but there are different ways to slice and dice your list based on your marketing goals. Here are four different ways to target your audience. Which approach might work best for your next marketing campaign?
1. Demographics.
Demographics such as age, gender, ethnicity, and household income are simple but effective to focus your messaging. For example, if you are selling jewelry, you might show different collections to different recipients based on household income. If you sell automobiles, you'll select other vehicles for those just out of college versus those married with young children.
2. Lifestyle.
Lifestyle data pools target audiences based on shared interests, such as fitness and wellness, green living, or pet ownership. Two people who look very different demographically may both love dogs or snowboarding. There are many ways to get at lifestyle data, including magazine subscriptions and past purchases.
3. Life stages data.
Whether young or old, rich or poor, we face common life stages. For example, new parents deal with diapers, and recent college graduates need to furnish apartments. Retirees may be looking to downsize, travel, or invest in a lasting legacy. Targeting based on life stage is different from targeting based on age or generation in that two shoppers might be the same age but at very different stages in life. For example, one might still be single and living at home, while another might be married and with young children. Even though they are the same age, their needs and priorities will differ.
4. Past purchases.
We can infer a lot about someone based on what they buy. If they just purchased a new pool, they'll likely be in the market for pool accessories, too. If they just purchased home improvement supplies, there's a good chance they'll be in the market for new appliances.
Want to learn more about any of these data types and how to develop campaigns around them? Let us jump in and help.
---
Are you up for a surprise? In a customer satisfaction study of 10 major industries, nearly three-quarters (72%) of respondents indicated that they were delighted with the products or services they purchased, yet 88% said that they were willing to switch providers for any reason!
How can this be? If customers are happy with the products they buy, how can they switch so easily? Because so many companies offer products and pricing similar to one another's. That's why maintaining customer loyalty takes more than the basics. You have to make people feel valued, not just by offering them great stuff, but by how you treat them. Give them a great customer experience.
According to Price Waterhouse Coopers, 73% of consumers consider customer experience important in purchasing decisions. This means that all things being equal, they will go where they feel most valued and appreciated.
That's why a consistent, high-quality drip of customer communications is so important. It makes customers feel noticed and valued, not just when you want them to purchase something.
Set up a series of "nurturing" mailers throughout the year. Make it a continuous client contact program that demonstrates that you are sincerely grateful for their business at regular, pre-planned intervals.
Use the data you've collected to grow your relationship with these customers. Offer valuable tips, newsletters, and case studies that remind clients of your commitment to service, value, quality, innovation, and loyalty.
If you are going to cross-sell or upsell, make those suggestions valuable and relevant to your customers based on the information you have collected, such as their past purchases or subscriptions that are expiring.
Ask for their feedback. People love when you ask their opinions. Now act on what you learn. Communicate through tangible actions that you not only care about what they have to say but are willing to act on it, too.
Direct mail isn't just for customer acquisition marketing anymore. It is a critical part of effective customer retention.
---
Increasingly, marketers understand the power of emotions. Product features and benefits are essential, but someone's need, fear, or desire often motivates the actual purchase. Just look at some of the most iconic brands on the market. Johnson & Johnson doesn't sell Band-Aids based on their adhesive properties. It shows a crying child being soothed by a loving parent. Nike doesn't sell shoes based on the resilience of its soles. It shows athletes overcoming obstacles and achieving greatness.
Here are three ways you can tap into emotion in your marketing.
1. Think "simple" or "complex."
Simple sales are those for which people can make quick, easy decisions based on numbers: This product is 10% cheaper than that one. That product offers 25% more longevity than the one I have. However, with complex decisions like financial, insurance, and medical products, emotion plays a much more significant role. What makes me feel safe? How can I best protect my family long-term? When writing your product copy, think about which category your products fall into.
2. Be authentic.
Nobody likes a phony. That includes customers. Honesty makes consumers feel connected and creates trust and respect for the brand. Consider Allstate Insurance. In its 30-second slice-of-life commercials, homeowners fall prey to their humanness by opening car doors into oncoming traffic or crashing into parking lot barriers because they're looking at their children's birthday balloons in the rearview mirror. We've all done it. It feels natural and familiar. Be honest, and make your brand something people can relate to.
3. Think beyond the sale.
Show an interest in your customers and prospects beyond the sale. Drop them tips and tricks that help them with everyday problems. Create emotional engagement that transcends the immediate need. Stanley Steemer does this well. It sends a high number of direct mail pieces and emails every year. While some of these pieces are designed to sell, cross-sell, and upsell, the majority are tips for various household cleaning projects. This is information people can use whether they end up purchasing Stanley Steemer services or not.
Emotion and brand connection sell. Maybe not right away, but over time. So be honest, be relatable, and invest in your customers long-term. It takes more effort, but it pays off in the long run.
---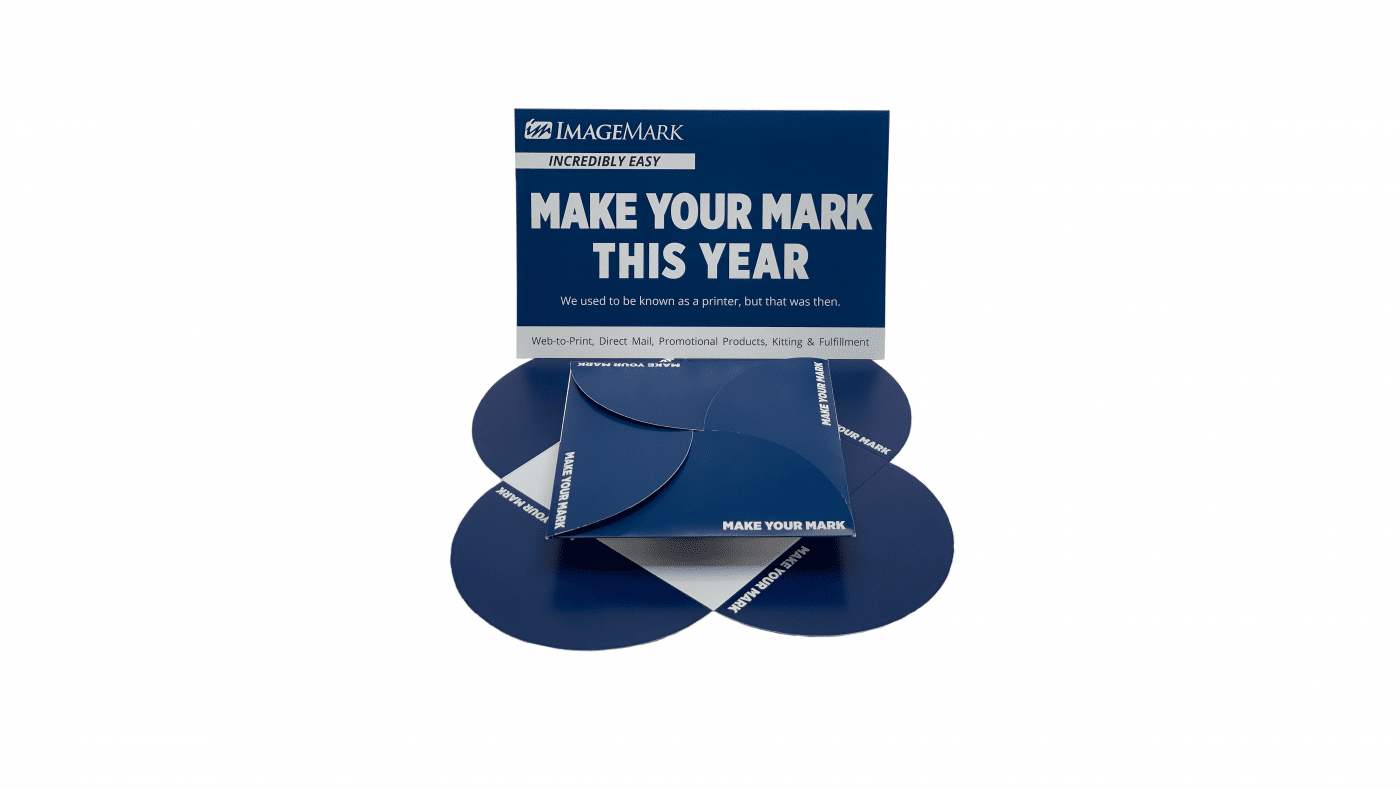 For many businesses, direct mail letters are their "go-to." They are inexpensive to produce, can include BREs and other inserts, and depending on the design, can seem more personal than self-mailers. Still, the popularity of self-mailers is growing. They, too, are inexpensive and have many benefits.
Self-mailers are created when a single piece of paper is folded to create a self-contained mailing format. Depending on the size of the sheet, self-mailers can be folded into two or more panels. They can be sealed using glue lines, wafer seals, or glue spots along the edge.
Let's take a look at some of their benefits:
Because they require no envelope, self-mailers have no envelope or inserting costs. This makes them a great option for tight budgets.
When unfolded, self-mailers provide lots of real estate for graphics and messaging.
Even on digital presses, self-mailers can be printed on a wide variety of substrates, including heavier substrates.
While we tend to think of self-mailers as simple, folded formats, their substrate flexibility allows them to include pockets and interior panels into which you can insert gift cards, reply cards, or small samples.
Because self-mailers can be digitally printed, they can be fully personalized like any other mailer.
Self-mailers are readily identifiable as marketing mail, so they can have lower response rates. For this reason, some businesses use them for mailing to people with whom they already have a relationship—loyal customers who will open them simply because of their relationship with the brand. Others use them for campaigns in which people want promotional mail. Examples include promotions around clearance sales, new store openings with discounts, and free samples. We see them heavily used around college recruiting, as well.
In the end, choosing the correct format depends on your target audience and the goals of the campaign. Testing will be critical in helping you identify when and where each format will work best for you.
---
In a world defined by virtual and digital interactions, positive, tactile experiences are a delight to the senses. This is why improving the "unboxing experience" for packaged products is growing in importance among product marketers.
The "unboxing experience" is how buyers feel when they first open the package and engage with its contents. This experience might be dull as dirt (like taking a pair of shoes out of a cardboard box in a shoe store) or, like opening the box for a new Apple iPhone, it can be a multisensory extravaganza.
Whether you are selling online or in a brick-and-mortar environment, a great unboxing experience increases brand satisfaction, boosts brand engagement, and is something that your customers remember and look forward to in their next order. But how, exactly, do you create one?
Try one of these proven ways—or all three!
1. Brand it.
Companies with the best unboxing experiences create custom branded packaging. This is packaging that is unique to you and includes your company name, logo, and any other graphics or text you want to include. It's not just "any" box. It's your box, and everything about it reflects your brand. According to a study by Dotcom Distribution, 40% of online shoppers would share an image of their purchase on social media if it came in branded packaging.
2. Go premium.
Use premium materials to create a sense of luxury. One company that does this extremely well is Apple. All Apple products are delivered in minimalist white boxes with shimmering metallic letters. Boxes are made of premium materials with a soft-touch coating and fit the products like a tailored suit. Unboxing is truly a delightful sensory experience that makes people feel they've just done something special.
3. Get creative with inserts.
Don't just send the product. Include inserts that delight, as well. Examples include personalized thank-you cards or fun product-related information. One organic goat-milk soap company, for example, includes a card with each bar of soap with a picture and the names of the goats from which the milk was taken. "Your soap was hand-crafted from the milk of Daisy, Lina, and Ana. They say, 'Thank you!'"
Think of unboxing as being like the product's grand entrance at a royal event. The more excitement generated around it, the more special the product—and by extension, your company—is perceived to be. If you're going to make an entrance, make it memorable in the best possible way.
ENHANCED PACKAGING AND THE "UNBOXING EXPERIENCE"
Source: US Vertical Vision Study: Vertical Industry Views from a Socially Distanced Perch; Keypoint Intelligence 2020
---