Nonprofit organizations know the importance of personalized direct mail. Most likely, you are already personalizing your mailers by the donor's name, giving history, and often household income. But are there other data points that could help? Here are some exciting statistics that, while they may not all apply to your organization, illustrate how important it is to know as much as possible about your donors. You never know what data might be vital to increasing their support.
1) Should you be targeting Millennials? Not necessarily. Millennials (those born 1981–1995) are more socially-minded than older generations, but does this mean they are a fundraising gold mine? Actually, no.According to Blackbaud, Millennials aren't significant givers. On average, they give $481 per year, compared to $732 for Generation X and $1,212 for Boomers.
2) Mac users are more generous. On average, Mac users give $182 per donation, while PC users give $137. This reminds us that correlations related to giving can be found in the most unexpected places, so dig deep!
3) Add video. According to Olgive, 57% of people who watch a nonprofit video will ultimately donate. Use print-to-mobile tools like QR Codes and augmented reality to enable donors to feel more personally connected to your cause.
4) Be mobile-friendly. According to Nonprofits Source, 51% of people visit nonprofit websites on mobile devices. Even if you send your appeals through the mail, make sure your website is optimized to look fantasticregardless of what device people use to access it.
5) Don't overlook lower-income households. If you think the more money someone has, the more likely they will reach into their pockets, you'd be wrong. In one survey, households making $25,000 per year gave an average of 12.8% of their annual income to charity. This is the highest percentage (and nearly double that) of any other income demographic.
All of this points to the need for more and better data. Every nonprofit's donor base will look and act differently, so before mailing out that appeal, invest the time to understand yours.
---
When two companies offer similar products, what differentiates one from another? It's more than price. When it comes right down to it, there is something even more important. It's the customer experience.
While "customer experience" can be an overused buzzword, there is a lot of truth behind its importance. At lunchtime, for example, there might be a deli right down the street that makes the best pastrami on rye in the entire country, but if the floor is dirty and the people behind the counter are snarky and rude, it doesn't matter. You'll go somewhere else.
The same occurs at the retail level. Take the example of Nordstrom's, which has been regularly praised by the National Retail Foundation as both setting and raising the standard for customer experience. Nordstrom customers know that when they shop at one of its stores, they will not only find premium merchandise, but they will be treated with value. From their interaction with employees to the chain's policies designed to enhance speed and convenience, shoppers may buy the same merchandise at other high-end retailers, but they won't be treated the same way.
Customer experience matters. With so many brands competing for the same customer dollars, experience can become the main differentiator between one company and the other. Not just in a positive way, but in a negative way, as well. In fact, Microsoft found that 58% of American consumers will switch companies because of poor customer service.
That's why we put so much emphasis on customer experience at ImageMark. We hope that, when you interact with any of our team members, you feel that we really care.
From how you are greeted when you first contact us, to how promptly and professionally your estimate is handled, we hope that you feel respected and valued from the very first moment.
If you have questions, we hope our salespeople and customer service team answer those questions promptly and offer suggestions genuinely designed to benefit your business and marketing plans, whether they improve our bottom line or not.
When things go wrong, we hope that you know that we will take full responsibility for anything that is on us, and we will make it right, no matter what it takes.
We hope that you do business with us, not just because of the value we offer in print and marketing services, but because you feel that you matter to us and that we value the projects you are doing.
If there is any area in which your customer experience falls short, let us know! We want to exceed your expectations because we know that, even though we take great pride in the print and marketing services we offer, a great customer experience is the greatest value we can provide.
---
For B2B marketers, integrating brand identity into marketing and sales collateral can be a real challenge. According to Provoke Insights, there are three main reasons:
1. 60% cannot ensure that brand assets will meet brand standards.
2. 31% lack brand standards.
3. 24% have no centralized library of approved brand assets.
Marketing solutions within reach!
Technology makes it easy to set up an online portal for all of your brand assets, along with a library of brand-approved templates for your most-ordered projects. Add rules for who can access which assets, which assets will be locked down, and how approvals will be handled, and brand management becomes a breeze.
---
Are you up for a surprise? In a customer satisfaction study of 10 major industries, nearly three-quarters (72%) of respondents indicated that they were delighted with the products or services they purchased, yet 88% said that they were willing to switch providers for any reason!
How can this be? If customers are happy with the products they buy, how can they switch so easily? Because so many companies offer products and pricing similar to one another's. That's why maintaining customer loyalty takes more than the basics. You have to make people feel valued, not just by offering them great stuff, but by how you treat them. Give them a great customer experience.
According to Price Waterhouse Coopers, 73% of consumers consider customer experience important in purchasing decisions. This means that all things being equal, they will go where they feel most valued and appreciated.
That's why a consistent, high-quality drip of customer communications is so important. It makes customers feel noticed and valued, not just when you want them to purchase something.
Set up a series of "nurturing" mailers throughout the year. Make it a continuous client contact program that demonstrates that you are sincerely grateful for their business at regular, pre-planned intervals.
Use the data you've collected to grow your relationship with these customers. Offer valuable tips, newsletters, and case studies that remind clients of your commitment to service, value, quality, innovation, and loyalty.
If you are going to cross-sell or upsell, make those suggestions valuable and relevant to your customers based on the information you have collected, such as their past purchases or subscriptions that are expiring.
Ask for their feedback. People love when you ask their opinions. Now act on what you learn. Communicate through tangible actions that you not only care about what they have to say but are willing to act on it, too.
Direct mail isn't just for customer acquisition marketing anymore. It is a critical part of effective customer retention.
---
Increasingly, marketers understand the power of emotions. Product features and benefits are essential, but someone's need, fear, or desire often motivates the actual purchase. Just look at some of the most iconic brands on the market. Johnson & Johnson doesn't sell Band-Aids based on their adhesive properties. It shows a crying child being soothed by a loving parent. Nike doesn't sell shoes based on the resilience of its soles. It shows athletes overcoming obstacles and achieving greatness.
Here are three ways you can tap into emotion in your marketing.
1. Think "simple" or "complex."
Simple sales are those for which people can make quick, easy decisions based on numbers: This product is 10% cheaper than that one. That product offers 25% more longevity than the one I have. However, with complex decisions like financial, insurance, and medical products, emotion plays a much more significant role. What makes me feel safe? How can I best protect my family long-term? When writing your product copy, think about which category your products fall into.
2. Be authentic.
Nobody likes a phony. That includes customers. Honesty makes consumers feel connected and creates trust and respect for the brand. Consider Allstate Insurance. In its 30-second slice-of-life commercials, homeowners fall prey to their humanness by opening car doors into oncoming traffic or crashing into parking lot barriers because they're looking at their children's birthday balloons in the rearview mirror. We've all done it. It feels natural and familiar. Be honest, and make your brand something people can relate to.
3. Think beyond the sale.
Show an interest in your customers and prospects beyond the sale. Drop them tips and tricks that help them with everyday problems. Create emotional engagement that transcends the immediate need. Stanley Steemer does this well. It sends a high number of direct mail pieces and emails every year. While some of these pieces are designed to sell, cross-sell, and upsell, the majority are tips for various household cleaning projects. This is information people can use whether they end up purchasing Stanley Steemer services or not.
Emotion and brand connection sell. Maybe not right away, but over time. So be honest, be relatable, and invest in your customers long-term. It takes more effort, but it pays off in the long run.
---
Got a silo problem? If you're like most companies doing targeted and personalized marketing, you do. You may have plenty of customer data, but it might be in different places (silos), and these places often aren't talking to each other. As a result, your marketing is less effective than it could be. 
Here are some risks to having siloed data: 
Unhappy customers. Whenever mail gets lost because you have the wrong address, whenever a mail piece arrives with a bad name, or you offer to sell a long-term customer a product they already own, you risk alienating that customer. 
High costs. The average price of every piece of returned mail is $3 (Source: Pitney Bowes). This is not just the postage and printing. It's the cost of the piece coming back to you, figuring out what went wrong, and taking the time to fix it. 
Lost sales. How many marketing opportunities are lost because the data on customers' preferences and behavior is siloed in different departments? That translates into lost revenue. 
Let's look at five steps for getting rid of those silos. 
1. Connect inbound mail to outbound mail.
Build in tracking mechanisms that allow you to connect the incoming to outgoing mail. This can be as simple as adding a barcode unique to each participant. When the response envelope comes in, the barcode is scanned. This connects the incoming mail to the outbound file, linking the customer information together. 
2. Centralize data capture.
Centralize mail processing in one location. Capture mail coming in from marketing, sales, customer service, web forms, and anywhere else in your company. 
3. Extract what you need.
Your mail contains lots of essential details that can be useful to your print and digital marketing. Extract all of the insights you can, including names, addresses, channel preferences, transaction history, and customer surveys. Input it into a centralized database that can be accessed throughout the organization. 
4. Look and learn.
Assign someone with a marketing and data background to analyze your database to understand what it tells you. Contained in there are critical nuggets about customer behavior, channel preferences, and more. Need help? Just ask!
5. Put it to use.
With a closed-loop on your mail communications and a centralized, up-to-date database accessible by all departments, you have a powerful marketing tool at your disposal. Take what you can learn and use it to improve your targeted and personalized direct mail marketing or other customer communications. 
---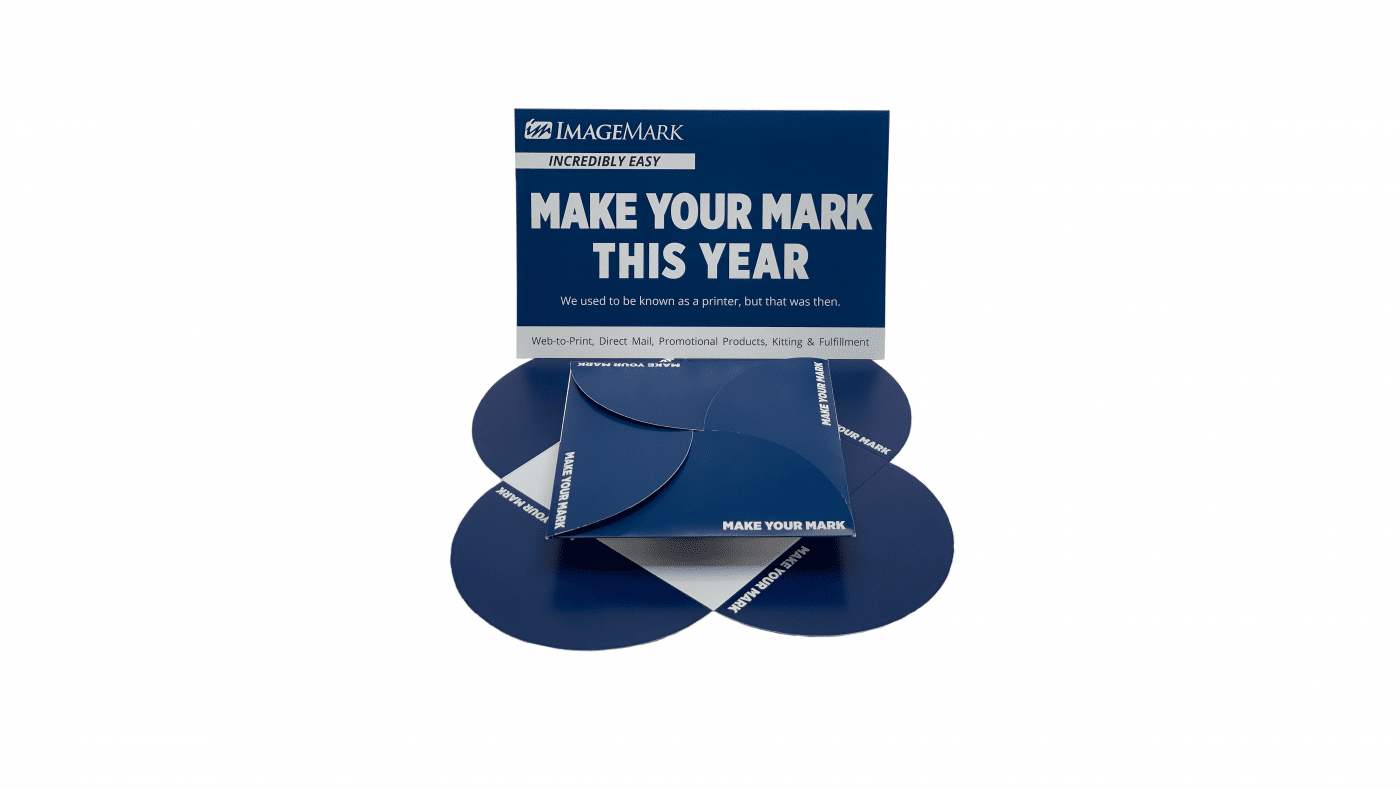 For many businesses, direct mail letters are their "go-to." They are inexpensive to produce, can include BREs and other inserts, and depending on the design, can seem more personal than self-mailers. Still, the popularity of self-mailers is growing. They, too, are inexpensive and have many benefits.
Self-mailers are created when a single piece of paper is folded to create a self-contained mailing format. Depending on the size of the sheet, self-mailers can be folded into two or more panels. They can be sealed using glue lines, wafer seals, or glue spots along the edge.
Let's take a look at some of their benefits:
Because they require no envelope, self-mailers have no envelope or inserting costs. This makes them a great option for tight budgets.
When unfolded, self-mailers provide lots of real estate for graphics and messaging.
Even on digital presses, self-mailers can be printed on a wide variety of substrates, including heavier substrates.
While we tend to think of self-mailers as simple, folded formats, their substrate flexibility allows them to include pockets and interior panels into which you can insert gift cards, reply cards, or small samples.
Because self-mailers can be digitally printed, they can be fully personalized like any other mailer.
Self-mailers are readily identifiable as marketing mail, so they can have lower response rates. For this reason, some businesses use them for mailing to people with whom they already have a relationship—loyal customers who will open them simply because of their relationship with the brand. Others use them for campaigns in which people want promotional mail. Examples include promotions around clearance sales, new store openings with discounts, and free samples. We see them heavily used around college recruiting, as well.
In the end, choosing the correct format depends on your target audience and the goals of the campaign. Testing will be critical in helping you identify when and where each format will work best for you.
---
In a world defined by virtual and digital interactions, positive, tactile experiences are a delight to the senses. This is why improving the "unboxing experience" for packaged products is growing in importance among product marketers.
The "unboxing experience" is how buyers feel when they first open the package and engage with its contents. This experience might be dull as dirt (like taking a pair of shoes out of a cardboard box in a shoe store) or, like opening the box for a new Apple iPhone, it can be a multisensory extravaganza.
Whether you are selling online or in a brick-and-mortar environment, a great unboxing experience increases brand satisfaction, boosts brand engagement, and is something that your customers remember and look forward to in their next order. But how, exactly, do you create one?
Try one of these proven ways—or all three!
1. Brand it.
Companies with the best unboxing experiences create custom branded packaging. This is packaging that is unique to you and includes your company name, logo, and any other graphics or text you want to include. It's not just "any" box. It's your box, and everything about it reflects your brand. According to a study by Dotcom Distribution, 40% of online shoppers would share an image of their purchase on social media if it came in branded packaging.
2. Go premium.
Use premium materials to create a sense of luxury. One company that does this extremely well is Apple. All Apple products are delivered in minimalist white boxes with shimmering metallic letters. Boxes are made of premium materials with a soft-touch coating and fit the products like a tailored suit. Unboxing is truly a delightful sensory experience that makes people feel they've just done something special.
3. Get creative with inserts.
Don't just send the product. Include inserts that delight, as well. Examples include personalized thank-you cards or fun product-related information. One organic goat-milk soap company, for example, includes a card with each bar of soap with a picture and the names of the goats from which the milk was taken. "Your soap was hand-crafted from the milk of Daisy, Lina, and Ana. They say, 'Thank you!'"
Think of unboxing as being like the product's grand entrance at a royal event. The more excitement generated around it, the more special the product—and by extension, your company—is perceived to be. If you're going to make an entrance, make it memorable in the best possible way.
ENHANCED PACKAGING AND THE "UNBOXING EXPERIENCE"
Source: US Vertical Vision Study: Vertical Industry Views from a Socially Distanced Perch; Keypoint Intelligence 2020
---
We all want to sell more products and services, and for decades, brand awareness has been the subject of research and study. Is this a good investment of your marketing dollars? To what extent does brand awareness truly influence the final purchase decision? As it turns out, quite a lot.
Here are the results from one fascinating study:
In a blind study by the University of Newcastle and the University of South Australia, 85.5% of subjects chose the familiar brand in the first trial, even if they preferred a less familiar brand.
Even when testing brands during an initial trial, consumers were more likely to purchase the product from a familiar brand name, even if they preferred the taste (or, by extension, the look, smell, or function) of an unfamiliar brand.
Consumers were not only likely to choose the more familiar brand but were more likely to make the decision more quickly — 9.8 seconds faster.
What does this mean for you? Get to the consumer early. Stay in front of them and don't quit! Repetition is critical. One statistic we regularly run across is that the average person remembers three to five brands per category. To get in there, you have to push someone else out and then stay there.
This is where consistent drips of brand messaging can pay off in a big way. Send a direct mailer and follow up with an email. Invest in retargeting with social media ads for visitors to your website. Create constant reminders of who you are and what your brand offers.
Creating brand awareness is not always about getting someone to buy right now. It's about staying top of mind—and keeping your competitors out in the cold—so that when your target audience is ready to buy, they think of you.
Source: "Brand Awareness Effects on Consumer Decision Making for a Common, Repeat Purchase Product: A Replication" (Journal of Business Research)
---
In this digital, mobile age of communication, the personal touch is often missing from important client, employee and partner interactions. In a rush to be present on social media sites and participate in the latest and greatest technology enabled trends, companies may make the mistake of forgoing the personal touch of sending a traditional holiday greeting card. Holidays are the perfect time to remember and thank customers, partners, suppliers, and employees for the vital role they serve in the success of your business.
If sending out cards isn't a yearly tradition for your business, or if it's fallen by the way-side in recent years, it's time to rethink that approach. Holiday cards and other types of thank you cards may seem like a small gesture, but when done in a genuine way, this gesture can help forge a lasting bond between your business and the recipient.
It's important to remember, however, that not all holiday cards achieve their goal. That may be because they don't have the right design, so they don't stand out as special. Or, the message on the inside of the card may not communicate what it was intended to communicate. For these reasons, you should take time planning before sending out cards for the holiday season.
We receive a lot of questions about this time of year for best planning of our client's holiday communications. Following are our answers to the ones we hear most often.
Why send holiday cards?
Here are the five reasons we believe are the most important reason to send holiday greetings:
SHOW THANKFULNESS
Holiday cards can be used to express gratitude. With them, you can say "thanks" in a way that is customized to the relationship you have with the recipient.
GENERATE GOODWILL
Goodwill is valuable to any business. Sending holiday cards is an excellent way to nurture important relationships and generate goodwill in a non-salesy way.
REINFORCE YOUR BRAND
By having your cards reflect your brand image, you are reinforcing your brand in the minds of the recipients.
STAY TOP OF MIND
Sending holiday cards to prospects and dormant clients will help your business stick in the minds of prospects and help dormant clients remember your business.
LEVERAGE THE SEASON TO "SUPERCHARGE" A DIRECT MAIL CAMPAIGN
What do you do when you receive an envelope that is obviously a part of someone's direct-mail campaign? Odds are that you throw it away. What do you do when you receive an envelope that looks like a personal note? You open it and publicly display the card it contains. It's still direct mail, but it works harder for you.
Who should I send cards to?
The core list of recipients should include your top customers, supportive suppliers, prospective customers and employees. These are the people your business touches:
CUSTOMERS
One of the best ways to show gratitude to your customers is to send them a holiday card. Remember, to be effective, the card must not contain a sales pitch. Also, consider personalizing your cards with a handwritten message. Handwriting the address is another great personalization technique.
PROSPECTS
If your salespeople use a customer relationship management or CRM platform, then you have lots of prospects. Use that database to send cards to those prospects to reinforce your brand and make them feel special.
DORMANT CUSTOMERS
As we mentioned above, sending cards to dormant customers puts your business back on their minds. When they need your product or service again, they may think of your business because you made a thoughtful gesture.
EMPLOYEES
Your employees are the bedrock of your business. Sending them a card shows how much you appreciate them and the work they do. Although it's a small thing, it can help boost morale and job performance.
SUPPLIERS
Most companies stop with just sending cards to customers or clients. Fewer companies send cards to prospects, dormant clients, and employees. Fewer still send cards to the rest of the people on this list. Why send cards to vendors? Because it's a good way to support the ongoing relationship.
PROFESSIONAL SERVICE PROVIDERS
It's all about relationships. You count on your accountant, attorney, custodians, and other professional service providers to help you keep your business running smoothly. They will appreciate receiving a card that shows them you care about the work they do for you.
STAKEHOLDERS AND INVESTORS
The people who have a vested interest in your business should also receive a holiday card.
GOVERNMENT OFFICIALS
For your business to be a good public citizen, you must foster relationships with your local government officials. Sending holiday cards is one way to do that. The gesture may remind them to think of you when a business opportunity is on the horizon.
POLICE DEPARTMENT
Consider sending cards to your local police department to show that you appreciate the work they do to keep your business safe.
PROFESSIONAL ORGANIZATIONS
The leaders of your local chamber of commerce, convention and visitor's bureau, and other organizations that support your community are all excellent choices for receiving holiday cards. The more organizations you can connect with the better. There may be opportunities that can come your way when you nurture professional relationships.
INFLUENCERS
LinkedIn isn't the only place to connect with influencers. Whether they are local or not, put together a list of the top influencers in your industry and send them a holiday card.
What type of card should I send?
It is crucial that your card represents your business well. Content and design matter. These two elements can make the difference between reaching your marketing goal or wasting time and effort. When the recipient looks at your card, they are looking at your business.
The short answer is to send a holiday card that proudly reflects your brand and your corporate culture.
To create a card that you are proud to say represents your business, be sure to select a quality card and envelope stock. Choose a weight that is substantial. A thin or flimsy card does not communicate quality. Also, choose a color that fits the season or your brand.
Next, help your card stand out by giving it a unique design. Consider creating a card with a die cut. It's sure to be memorable. Also, because most people display their cards on desks, tables, or walls, a card with a unique shape will catch more eyes than a standard rectangle card.
To round out the look of your card, don't run the envelope through your postage meter. Take the time to stamp each envelope by hand with seasonal postage stamps.
Should I personalize my card?
Yes. You should absolutely personalize each card. There are lots of personalization options. Simply choose the one that works for your business.
Start by addressing your envelope to an individual. If you only address your envelope to the business without a person's name, you defeat your purpose of connecting with an individual. Besides, it's doubtful that the intended recipient will ever see your card.
You can also personalize the outside or the inside of the card with a message that is meant specifically for the recipient. For the greatest impact, make the personalization handwritten. This may be too much of an effort for larger businesses, but it's still possible. Some printers can use your database to personalize each card using a digitized handwriting font.
To hyper-personalize your card, send it to the recipient at their home address. And, be sure to include a handwritten note with a kind message. This only works if you have a personal relationship with the sender.
Otherwise, it may be considered to be inappropriate.
THE HOLIDAY SEASON IS THE BUSIEST TIME OF THE YEAR FOR THE POST OFFICE.
To get your cards delivered before the holiday rush (Christmas or Hanukkah), put them in the mail as soon after Thanksgiving as possible. This means planning the production of your card well in advance of the holidays. Recipients are likely to remember the first cards they receive. If you've personalized the card as discussed above, your card is sure to be remembered.
ImageMark Puts It All Together
As you can see, to gain the benefits of sending greeting cards for the holiday season, you must give the project some thought. Get it right and you will nurture long-term relationships. Get it wrong and your brand image will suffer. And, there's another alternative. Stick to the middle of the road and produce a bland holiday card and it will get ignored.
The team at ImageMark is prepared to assist you with making all the decisions surrounding, what to send, how to send and when to send it. To get started, contact us to request a quote or a meeting.
---